Press Release
Multi-partner Initiative Announces Latest Grants to Support Anti-Racist, Culturally Responsive Schools and Defend Against Attacks on Public Education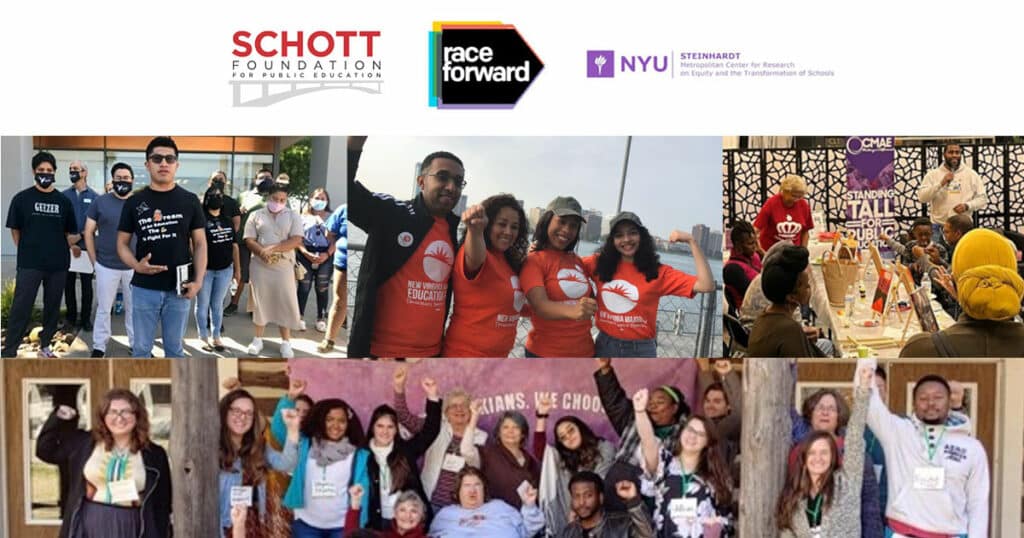 Today – Responding to the increased attacks on public education, the Invest Together Fund announces its latest H.E.A.L. Together grantees. The grants fund grassroots organizations that mobilize their communities' "silent majorities" who value inclusion, equity and fairness in support of our multi-racial democracy.
Invest Together Fund partners Schott Foundation, Race Forward and NYU Metro Center in H.E.A.L. (Honest Education Action & Leadership) Together provide financial and technical assistance to community organizations across 19 states and dozens of school districts. The William and Flora Hewlett Foundation, Raikes Foundation, and Charles and Lynn Schusterman Family Philanthropies are also key fund investors.
Today's grantees expand this trajectory; more grants are expected soon as investors join. See the full grantee list here.
"Invest Together and H.E.A.L. Together recognize the central place that public schools offer our communities," said Michael Wotorson, Schott Foundation, National Opportunity to Learn Network Director. "This is also the reason why a few wealthy extremists shamefully invest in astroturf groups to stir up division and fear."
New Invest Together Grantees

P.S. 305 – Miami
P.S.305 aims to provide every Miami child with an education that allows them to achieve their wildest dreams. We envision a Miami where our children grow up to be leaders that use the skills and competencies honed by our education system—and the collective experiences of our people—to create a better future for our city… We also have the power of our diversity, with people from all over the world coming to make a home on our shores. By challenging ourselves to harness this unique strength, we can serve as a proof point for how schools can support the growth of our individual and collective identities.

Kentuckians for the Commonwealth
Kentuckians for the Commonwealth is a statewide organization working for a new balance of power and a just society. As we work together we build our strength, individually and as a group, and we find solutions to real life problems. We use direct action to challenge – and change – unfair political, economic and social systems. Our membership is open to all people who are committed to equality, democracy and non-violent change.

New Virginia Majority
New Virginia Majority started twelve years ago with the audacious goal of building a bloc of conscious, consistent voters to advance a new politics that is democratic, sustainable and just. We envision a Virginia that centers the needs and struggles of working class people, people of color, immigrants, women, and young people to build a real democracy rooted in racial and economic justice.
We believe that all Virginia students should have access to a high-quality education, regardless of their zip code, race, immigration status, or country of origin. This includes having fully funded schools, affordable higher education and workforce training, and safe and supportive learning environments.

Common Purpose – West Palm Beach, FL
Common Purpose in Palm Beach County is a part of a coalition of many community groups that includes those working around education justice. We are forming an education committee of educators, families and students to engage key stakeholders in organizing around the school district campaign. We are focusing on equity issues, doing legislative organizing – creating awareness of LGBTQI attacks in legislation, historical accuracy of marginalized communities in schools and gun violence in schools.

CREED – North Carolina
Ensuring equitable education opportunities means shifting the policy atmosphere and advocating for changes that are generational in their impact. CREED prioritizes expert, race-conscious research on North Carolina-specific education issues. It raises the collective awareness of the general public while inspiring and elevating the work of educators who are ready to alter practices and protocols to become more equitable. CREED will continue to execute a rigorous research agenda that informs the call for transformation at the structural level for students in Pre-K, K-12, and post-secondary.

LUCHA – Arizona
Living United for Change in Arizona (LUCHA) is an organization led by changemakers fighting for social, racial, and economic transformation. We are committed to human dignity, inclusion, equity, and collective growth. We work to reclaim our shared power alongside our families and community.
Victories in Florida and Beyond
"Schools and communities were blindsided by the onslaught of attacks on public schools in 2021," said Megan Hester, Metro Center Director. "Some communities thought they would be a fleeting fad, or that their district would avoid the storms of small groups of extremist parents fueled by right-wing organizations, or simply lacked capacity to take on a new fight."
As the assault continued in 2022 with greater force and reach, more pro-equity communities began organizing.
"Many of these groups are brand new organizations, who are new to community organizing and public education issues, so their first year has necessarily included building infrastructure, such as hiring their first paid organizer, building local alliances or developing a campaign plan," added Dennis Chin, Race Forward Vice President.
While building this infrastructure, capacity and base, community groups have also run powerful campaigns, leading to larger local and statewide impact.
Invest Together supports the HEAL member groups achieving results such as these below.
Colorado: Coalitions of parents, youth and educators successfully restored the inclusion of historically marginalized people to Colorado's K-12 state social studies standards, assisted by the #RestoreTheRevisions toolkit that was modeled on the HEAL Toolkit.
Florida: P.S. 305 worked with partners and organized parents in Miami-Dade County to overwhelmingly approve a $1 million referendum to increase teacher salaries.
Georgia:
Georgia Youth Justice Coalition (GYJC) was pivotal in ensuring that the most extreme anti-CRT and anti-LGBTQ bills were defeated, and the most punitive provisions stripped from the bills that passed.
GYJC and Migrant Equity Southeast (MESE) testified at hearings of the State Senate's school funding commission, and together with their partners at Fund Georgia's Future, helped protect funds for education in this year's budget, prevent the passage of Don't Say Gay bill, and make education funding a top issue for the current legislative session.
MESE is helping to shift the conversation in their district from parents rights and LGBTQ+ books to language access and transportation for immigrant and rural families.
Kentucky: A student leader of Kentucky Student Voice Team was named chair of Kentucky Department of Education's United We Learn Council where they are positioned to influence statewide education policy.
Louisiana: Anti-equity bills in Louisiana failed to pass the legislature, in part due to advocacy and education from Step Up Louisiana and other community groups.
New Hampshire: In coalition with other partners, Rights and Democracy helped defeat an anti-trans bill and pro-equity candidates swept school board elections.
New York
North Carolina: Education Justice Alliance is a key member of a statewide coalition that won a verdict in the Leandro case ordering North Carolina to fulfill the education funding obligations set forth in the state's constitution.
South Carolina: Lowcountry Black Parents Association, Pro-Truth SC and their allies organized and successfully prevented the passage of five of the anti-truth/divisive bills for 2022.
Virginia: Hamkae Center is coordinating a statewide effort to push back and reverse Governor Youngkin's revisions to the social studies standards.
Wisconsin: The Kenosha Education Justice Coalition (KEJC) fought back against right wing extremist groups' efforts to penalize the school districts for implementing a mask mandate, by taking over the district's annual meeting and forcing cuts to the district budget. KEJC successfully organized to restore $3 million to the schools. KEJC also protested after an off-duty officer kneeled on a child's neck at a middle school, and won de-escalation and conflict resolution training for school safety officers.
Contact: Melissa Daar Carvajal
mdc@schottfoundation.org
415-623-6235
For Immediate Release
3/8/2023
---