New Data on Racial Equity and Racial Justice Funding in Education Philanthropy
Movements for racial justice in education are growing — but investment in them is lagging.
Key Findings
K-12 grantmaking peaked in 2018 and has declined ever since.
Both racial equity and racial justice remain drastically underfunded by education philanthropy. Deep achievement and opportunity gaps mean student needs grow while funding stalls.
At less than 1% of K-12 education grantmaking, philanthropy still drastically underfunds racial justice work.
Education grantmaking to racial equity and racial justice slightly decreased in 2020, despite stated commitments from funders.*
Racial equity education grantmaking has declined since 2015, when funding spiked after the Ferguson and Baltimore uprisings.*
Racial justice education grants are disproportionately concentrated in the Northeast, while almost half of all K-12 students, majority students of color, are enrolled in the South.
*Based on Candid's Foundation 1000 (F1000) data.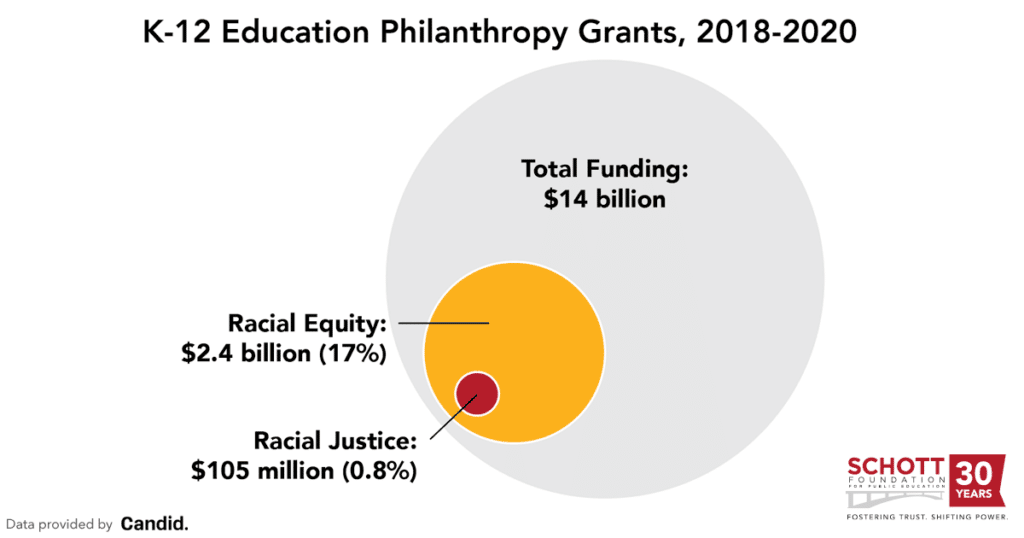 Racial Equity & Justice Grantmaking By Region
K-12 racial justice funding is concentrated in the Northeast. The majority of dollars, 61%, went to organizations based there. Only 13% went to those located in the South and 20% to those in the West. In comparison, racial equity grants are more evenly spread geographically.
Considering that 43% of all K-12 public school students of color are enrolled in the South and 29% in the West, there is considerable work to be done in ensuring that funding for both racial justice and equity goes where it's needed most.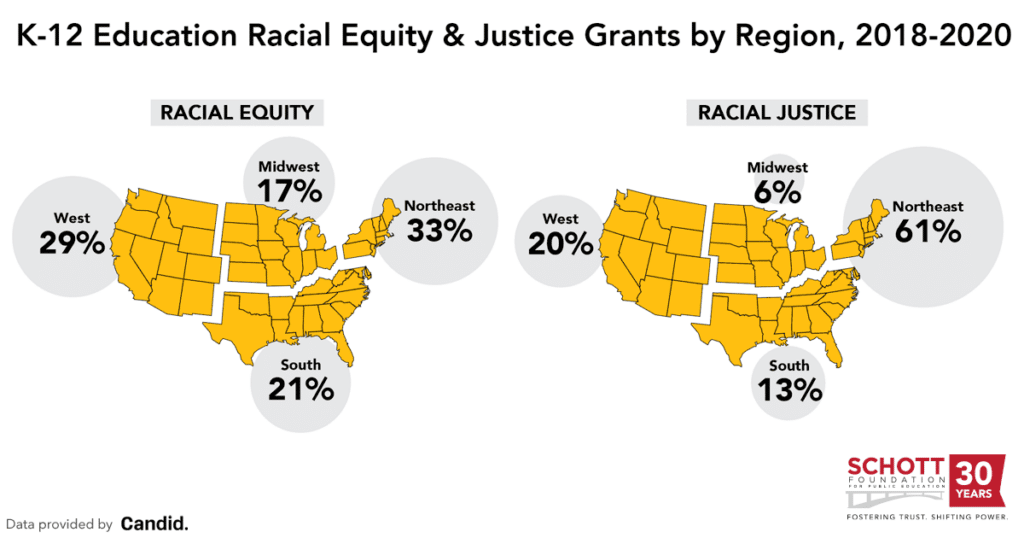 Racial Equity Grantmaking Has Decreased Since 2015
Based on F1000 data, K-12 total grantmaking peaked in 2018. Racial equity grantmaking in the sector peaked in 2015, the year after the Black Lives Matter movement was born in the wake of the police murder of Michael Brown.
Candid's Foundation 1000 (F1000) data is limited to grants of $10,000 or more awarded by a set of 1,000 of the largest U.S. private and community foundations each year. Because it is somewhat limited as a dataset, the absolute dollar amounts don't matter as much as the change over time: it's a sample that lets us detect trends in the sector. Note that F1000 dollars here are not adjusted for inflation.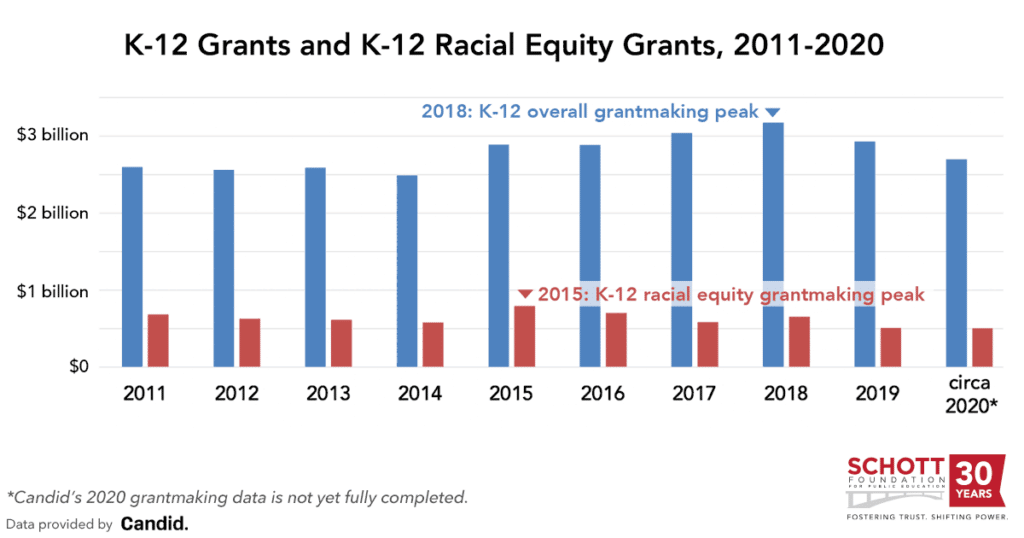 Below are racial equity grant dollars as a percentage of total K-12 grant dollars. Both the total dollars and percentage have been trending downward since 2015. The slight percentage uptick in 2020 is solely due to a shrinking of the total K-12 grant dollar amount: it's a larger slice of a smaller pie.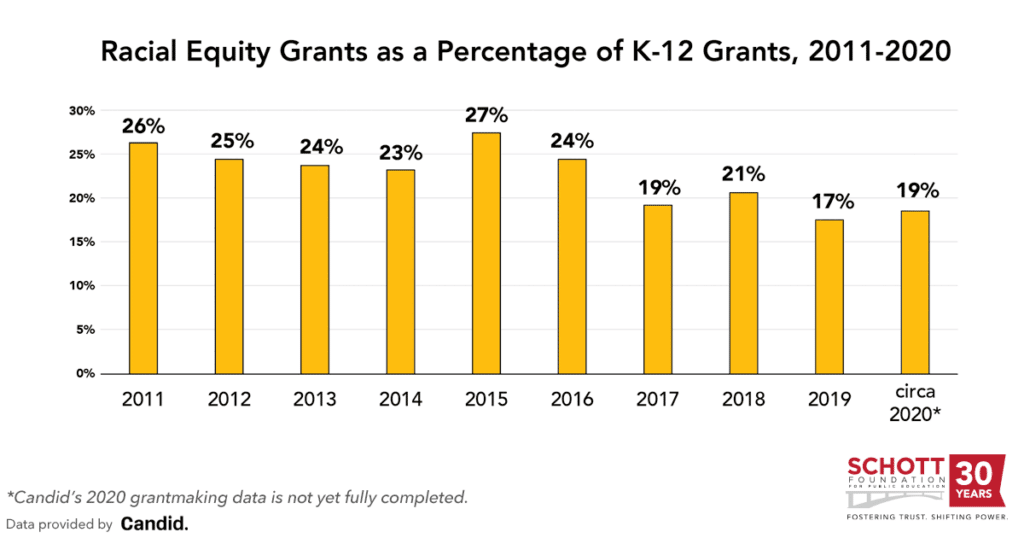 Action Steps
The data is clear: education philanthropy must step up to make the bold investments that the movements and this moment demand of us. This will take visionary thinking, difficult conversations, and new commitments to transparency and participatory grantmaking — but you are not alone.
Utilize the dual lenses of racial equity and racial justice as defined in this report to understand and change how your grantmaking portfolio is allocated. Use this report to present the case and urgency to do so.
Educate yourself on justice movements in your focus area. Learn who the grassroots leaders are and what they are focused on changing. This requires having intentional conversations with those that are leading these movements. Attending convenings lead by grassroots orgs or entities that serve those organizations. National networks like Journey For Justice, Alliance to Reclaim Our Schools and Dignity in Schools can lead you to these local justice groups.
Engage education justice intermediaries like Schott, Communities for Just Schools Fund, and Blue Meridian.
Commit to trust-based philanthropy  and sustainable funding practices– good resources to review include Building A Trust-Based Philanthropy and The Future of Philanthropy, Foundations Build Flexible Funding
Share this report and build a strong plan of action with your colleagues to shift your organization's grantmaking toward racial equity and justice. Connect with and learn about intermediaries that work with grassroots organizations on the front lines of education justice.
Watch Schott's 2021 Grantmakers for Education conference session, "Shaping a Racial Justice Portfolio."
Learn about the Southern Education Fund, working to end the school-to-prison pipeline.
Read Communities for Just Schools Fund's Annual Report.
Provide support to the families and community leaders closest to the problems to direct, instigate and advocate for the support they need and the solutions they deem most effective.
Evaluate your organization's grantmaking strategies on a regular basis to ensure your actions are lining up with your new commitments. Share those evaluations with your grantees and encourage honest and frank feedback from them.
Use and adapt existing tools like the Philanthropic Initiative for Racial Equity's "Grantmaking with a Racial Justice Lens" guide.
Evaluate the expertise both your organization and grantees have internally to be successful at understanding and developing strategies for thoughtful and intentional engagement.
Hire staff that have experience working with and in grassroots communities. Empower those staff members to advise your organization and internal stakeholders on grassroots funding strategies.
Bring together an advisory committee that intentionally includes impacted community groups, grassroots leaders and other philanthropic thought leaders to help evaluate and provide strategic advice.
Join us in shifting philanthropy.
Are you a funder? Partner with Schott to learn how you and the sector can shift resources toward racial equity & justice in education.
Set up a conversation with our SVP of Advancement Lauren Hadi: