Interview: Precious Waldron-López on Building Grassroots Youth Power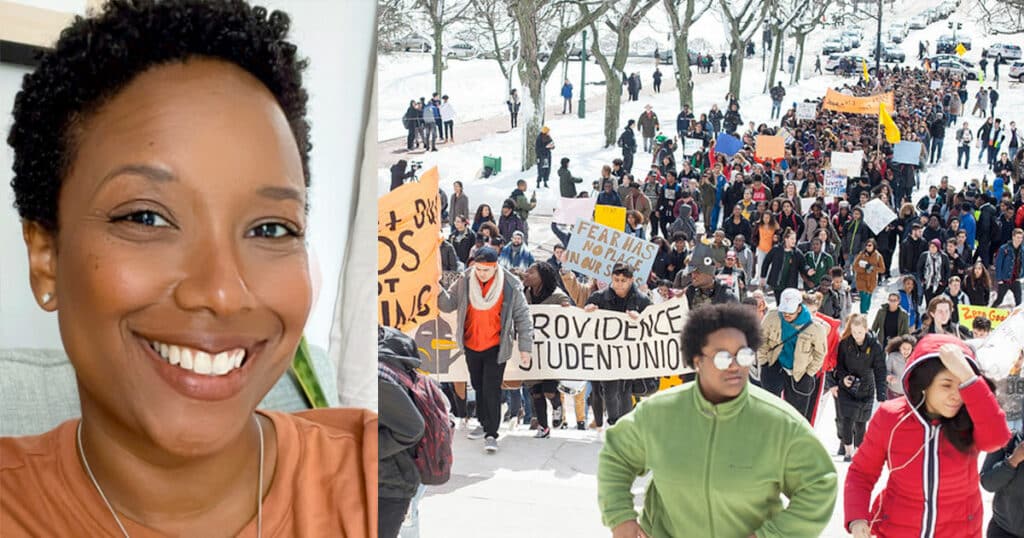 Precious Waldron-López joined the Schott Foundation last month as our Regional Program Officer, Northeast.
Precious comes to Schott from the Providence Student Union (PSU), where she has served in several roles, most recently Executive Director. She has been a driving force in empowering high school students to voice their concerns and advocate for equitable education.
In this interview we discuss her background, the education justice movement, youth organizing, and what she looks to accomplish at Schott.
How did you come to education justice organizing?
After working in the corporate sector for several years I was feeling unchallenged, unfulfilled, and with little room for real growth. I went back to school to get my Master's so I could follow my passion for multicultural arts education and community development.
I'm from the U.S. Virgin Islands. We are a group of islands — especially for St. Croix — that was colonized by seven different countries. So, our racial and ethnic and cultural makeup is a big pot of soup, a mixture of flavors. Part of what drove me to community development and education was from meeting people, hearing their stories and where they're from, because while we're all different, many of the issues we're facing are the same.
Joining Providence Student Union as an organizing director was an incredible learning experience. There is a world of difference in the public schools I attended compared to those that the students I served were attending. I grew up in majority white public schools in a majority white community, and so the gap in resources available, and therefore the problems students are facing, is stark. Our students would tell us they don't have an up-to-date curriculum. Their books are falling apart. There's mold in the ceiling. There are police officers in their hallways. It's 95 degrees in the classroom and the windows don't open. Their teachers are stressed and burnt out. And in spite of these problems, Providence students are desperate to learn. It's beyond frustrating that we still need to fight for what should be a human right guaranteed to all.
How did the youth organizing landscape change during your four years at PSU?
One thing that hasn't changed is that PSU staff and leadership truly learn from students who are actually doing the hard work of organizing against the inequity and injustice they see every day.
A major shift we made was around political education. The ability and drive among students organizers was there, but there was a need for greater political understanding of how systems change occurs, how big shifts can take place in policy. So that's when I shifted my role to Partnerships and Programs Director, so I could learn, assemble, and provide those more advanced tools to our students. We built out workshops and programs for them that included campaign development, strategy, tactics, and more. This curriculum also helped PSU grow as an organization internally.
We're also seeing greater coordination and coalition work across geographies, both in New England and across the country. School communities are wrestling with many similar issues all over the nation, and we've found that creating spaces where activists can meet, strategize, and exchange ideas has been incredibly helpful. For example, with our push for Counselors Not Cops in Providence schools, PSU is part of the larger Providence Alliance for Student Safety (PASS), which includes several other grassroots groups. PASS works in concert with larger national movement formations for police-free schools like the Alliance for Educational Justice and the Advancement Project. Having young people be in these wide-ranging, substantive conversations is transformative.
Another shift over my tenure at PSU was providing space and opportunity for students to teach themselves and each other. While initially I would lead political education workshops, over time I could shift to simply playing a support role as students taught and build knowledge with each other.
And of course, we've also focused on fun activities too — they're still kids, and want to be kids! Especially for first generation students, queer students, Black and brown students, so many of them are forced to grow up much more quickly than they ever should have to. Making sure there's fun in the mix is important.
The natural turnover of students is a perennial challenge for youth organizers. How has PSU kept growing? What does recruitment look like?
Recruitment is incredibly important at PSU. Several years ago, some former student PSU members came to us and said, "Hey, we need to establish a youth leadership team that can direct the big decisions of the organization, especially when it comes to campaigns and direct actions." The Youth Leadership Team was formed and is still a key part of the organization today. And so, with that recruitment, they've tried to make sure they recruit students starting as freshmen, so that they can participate all four years. PSU is also committed to paying youth organizers who take leadership roles: if we value their expertise, we should value the worth of their time.
PSU also works to hold onto them a bit after they depart. After members graduate high school, they are still considered "alumni" for one year as they enter college or work. We've found that PSU alumni are way ahead of the game in organizing, compared to their college classmates, and part of the ongoing work is building a larger alumni network so former PSU members can stay in touch, strategize, and organize together in the long term.
What do you most look forward to in your new role at the Schott Foundation?
What I look most forward to doing at Schott, especially in my role as Regional Program Officer for the Northeast, is being able to meet, spend time and learn from the other grassroots organizations in my region. I look forward to connecting with youth and parents to get firsthand experience from their point of view of what organizing, advocacy, and activism looks like in their city and state. My focus will be how I can best advocate for them and leverage philanthropic dollars to support them in creating and demanding change.