Video
Webinar: Keeping Students First: Building Community Labor Partnerships for Strong Schools
When parents, youth, community members and educators join together, they can move mountains.
From West Virginia to Oklahoma and a growing list of states across the country, educators are making demands that go far beyond fair wages and benefits: they are advocating for newer textbooks, smaller class sizes and pushing back against the austerity measures and harmful policies that undermine student-centered learning environments. Local communities are locking arms with educators and joining those efforts.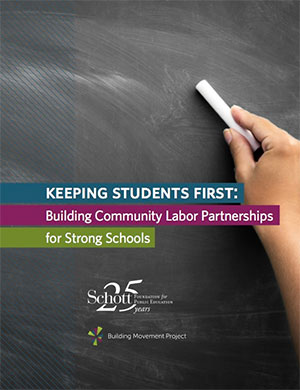 Amidst this groundswell of grassroots education organizing and mobilization across the country, Schott Foundation and Building Movement Project are proud to release a groundbreaking new report, Keeping Students First: Building Community Labor Partnerships for Strong Schools.
Keeping Students First is designed to support community and labor groups that are ready and willing to engage in meaningful relationship building and collaboration to address systemic opportunity gaps that have contributed to achievement gaps, especially for youth of color.
The report explores what happened in two cities—St. Paul, Minnesota and Austin, Texas—where both unions succeeded by bringing the community into strategy development and partnership in a meaningful way.
During our webinar on April 24, we discussed this moment in grassroots education organizing and lifted up important themes and lessons learned from both cities.
Our speakers included:
Sean Thomas-Breitfeld, Co-Director, Building Movement Project
Keron Blair, National Director, Alliance to Reclaim Our Schools
Dr. Cassie Schwerner, Senior Vice President of National Partnerships, Schott Foundation for Public Education (moderator)