Press Release
Report: Gap Between Black and White Male High School Graduation Rates Still Widening
Contact:
Teri Wade, 212-595-4047, teri@missionandmessage.com
Shawna Ellis, 617-876-7700, se@schottfoundation.org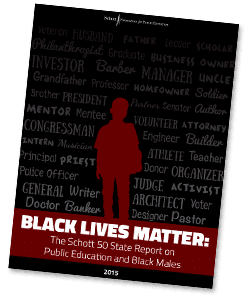 CAMBRIDGE, Mass., Feb. 11, 2015 — A new report released today by the Schott Foundation for Public Education finds that the latest estimates for national public high school graduation rates are 59 percent for Black males, 65 percent for Latino males, and 80 percent for White, non-Latino males. Since the Schott Foundation's 2012 report, the gap between Black and White males has increased from 19 percentage points (school year 2009-2010) to an estimated 21 percentage points (2012-2013).
Black Lives Matter: The Schott 50 State Report on Public Education and Black Males details graduation rates of Black, White and Latino males nationally, by state, and in major urban districts. According to the report, a systemic lack of equity in the quality of educational supports and resources for Black and Latino students creates an "opportunity gap" that results in barriers to all students having an opportunity to learn and succeed.
"On the heels of several recent tragedies and acts of violence that have brought increased attention to the alarming racial divide in our nation, the report reveals a quieter destructive force related to racial injustice: educational inequality," said Schott Foundation President and CEO John H. Jackson. "Investing in young Black males produces results that are an asset to our society. There are currently over 2 million Black males who are college graduates and over 1 million enrolled in college. Positioning young people to graduate from high school with a solid foundation creates a pathway out of poverty and toward social mobility."
A video produced by the Schott Foundation highlights the achievements of Black males and their contributions as military veterans, entrepreneurs, and philanthropists.
Key graduation findings from the report include:
The majority of the states with the largest gaps between Black and White male graduation rates are in the Midwest.
New Jersey and Tennessee are the only two states with significant Black male enrollments to have Black male graduation rates higher than 70 percent.
Maine has the highest graduation rate in the nation for Black males (90%).
Nevada has the lowest graduation rate in the nation for both Black males (40%) and Latino males (44%).
Alaska has the highest graduation rate for Latino males (82%).
Other disparities:
Higher out-of-school suspension rates – Black students are consistently disciplined at a higher rate than their White peers, despite no evidence of higher rates of school misbehavior.
Lower Advanced Placement enrollment – There is less access to AP courses in schools that serve more Black students.
Lower reading and math proficiency scores – Gaps between Black and White males nationally are 26 percentage points for 8th grade reading proficiency and 32 percentage points for 8th grade mathematics (2013).
The report proposes specific action steps and outlines needs, including:
Consistent state and local data collection and reporting of graduation rates, disaggregated by race and gender.
Student-centered educational programs that align academic, social, and health support systems.
A moratorium on out-of-school suspensions, which disproportionately target Black and Latino students.
Private sector programs and community networks that provide role models and supports to help young people in low-income communities prepare for professional success.
Dr. Pedro Noguera, the Peter L. Agnew Professor of Education at New York University and the lead researcher on the report, said, "Systemic reforms must be made at all levels to address educational disparities that are consigning many Black and Latino males to lives of poverty and perpetuating an inequality of economic and social status—something that both weakens our country and threatens our democracy."
In her foreword to the report, Michelle Alexander, associate professor of law at Ohio State University and author of The New Jim Crow: Mass Incarceration in the Age of Colorblindness, says, "Because Black lives matter, what we chose to do about educational inequity matters."