On the Anniversary of Brown v. Board, How Can We Defend Our Freedom to Learn?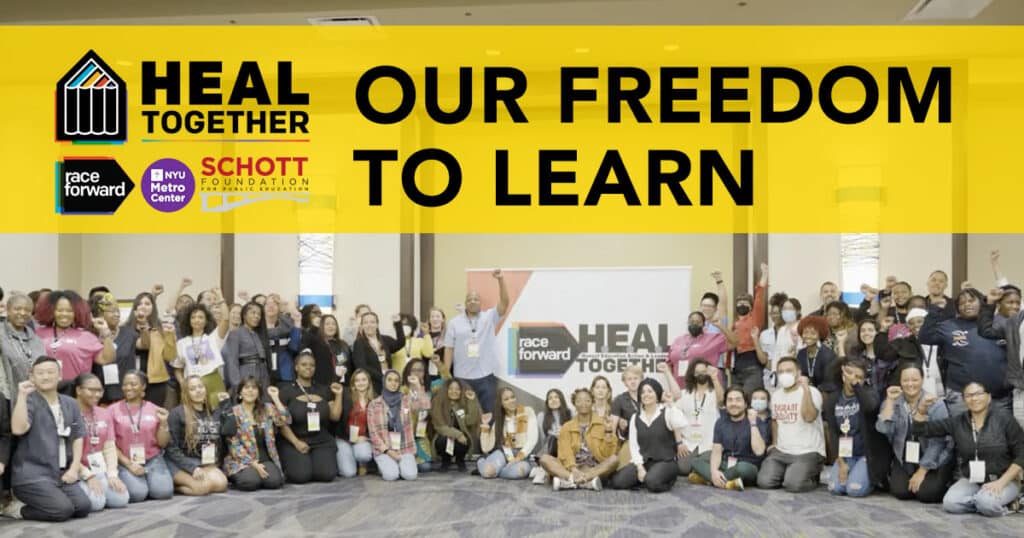 Participants from across the country joined HEAL Together on the 69th anniversary of the passage of the landmark Supreme Court decision Brown v. Board of Education as they launch HEAL's newly expanded "Toolkit for Organizing & Narrative Change."
This toolkit has been expanded and improved by national and local organizers and communications experts to support the continued growth of this movement to defend our communities' public schools and lay the groundwork to make public education serve as the foundation of a just, multiracial democracy.
As manufactured panic around "critical race theory" and attacks against LGBTQ+ rights in our public schools intensify, school board members, teachers, educators, and students continue to organize against the far-right's efforts to dismantle public education and divide our communities. We have all come together in a spirit of love and healing, united in the belief that honest education, diversity, and community are our greatest strengths.
Setting the stage, the opening speakers included: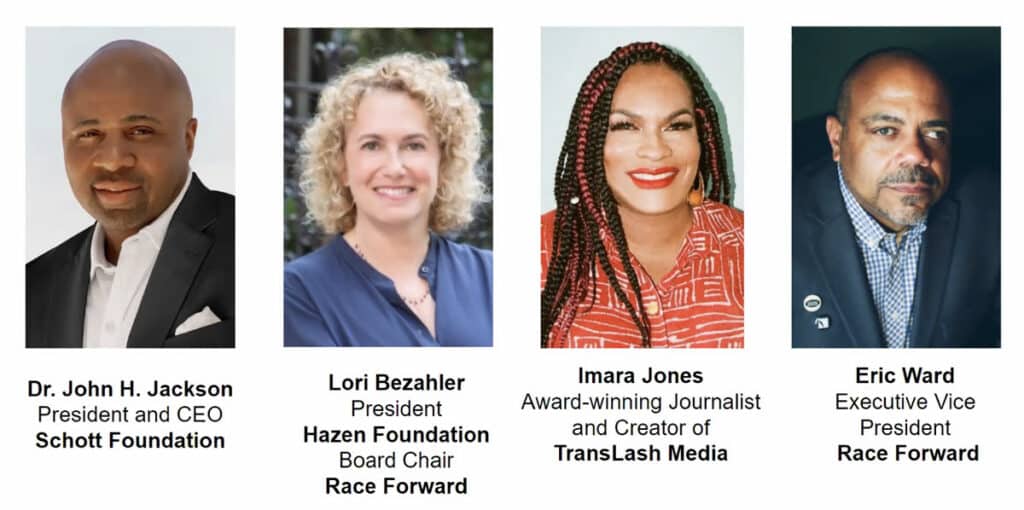 After introductions by Race Forward's Dennis Chin, Schott President & CEO Dr. John H. Jackson started the discussion by noting that struggles over public education are nothing new, and that it's now our generation's task to carry the promise of public schools forward:
"Brown v. Board was a first down, not a touchdown, because following Brown there was tremendous white flight from public schools across the country, but our advocates, people, parents and communities kept the fight to again protect our public education system and make our democracy a more perfect union. In 1964, we saw the Civil Rights Act, which again was progress toward making our democracy a more perfect union. In 1973, in San Antonio v. Rodriguez, where the Supreme Court was asked the question 'is education a federal right?' and said 'no,' that was a setback.

"But yet our parents, students and advocates across the country stepped up, and they advocated to ensure that our public education doors would remain open as the one of the only mandatory public goods for young people that is a come-as-you-are institution: regardless of your race, regardless of your sexual orientation, regardless of your religion."
Hazen Foundation President Lori Bezahler reminded us that the work of education justice is multigenerational:
"I remember in 2001, when I first started at the Hazen Foundation as a program officer, young people in the Delta region of Mississippi, which is one of 23 states that still allow corporal punishment — their campaign at that point was that paddling could only happen in the principal's office. They didn't want to have it front of their peers in the classroom. And I just remember sitting in a room and just being devastated, hearing them say that.

"But now, the next generation of young people and their parents, and some of those same young people, are leading national work to end corporal punishment and other violent and punitive measures such as isolation and restraints throughout the country."
Journalist and TransLash podcast host Imara Jones emphasized how the far right attacks against trans kids have been in the works for a decade, and the funders and organizations do their best to cloak their marching orders behind seemingly decentralized groups:
"The far right is using attacks on trans kids as a vector into authoritarianism in the United States. As I tell people all the time, if you're just realizing that's what's happening, then you are a decade and a couple hundred million dollars behind the Christian nationalist movement. One of the things that they realize is that focusing on trans kids and the discomfort that people have about trans people overall is a way to mobilize and to bend our systems that are meant for everyone in order to become more hostile, more exclusionary, and more ideological with respect to the world that they're trying to build."
Eric Ward, Executive Vice President of Race Forward, talked about the rise of racist legislation limiting the true telling of history in our schools, and how the erasure of history is a means of controlling our nation's present and future:
"States like Tennessee, Florida, and many others — nearly half the states in the country — have passed legislation forbidding teachers from discussing, among other things, the idea that any individual by the virtue of their race or sex is inherently privileged, whether consciously or subconsciously, is all part of a way to push away honest education…

"Our job is to preserve honest history in our schools but, where banned, we must engage with one another to make sure that history is preserved and told in all of our communities. And that's what it means to heal together."
HEAL Together member groups are building grassroots, community-rooted power in dozens of states and winning real victories. From Georgia to Michigan to North Carolina, the defense and strengthening of public schools means working across lines age, race, gender, and geography.
Watch the recording above to see the full event, which features grassroots organizers detailing their work and how to use the new toolkit!
---
Want to learn more? During the event, the HEAL Together team released a new video encapsulating what the initiative is, and the kinds of victories it's won:
Want to catch the next event? Add your name to the HEAL Together pledge and get updates on the trainings ahead: