Blog
Learn How You Can Help Shift Billions of Dollars Toward Education Justice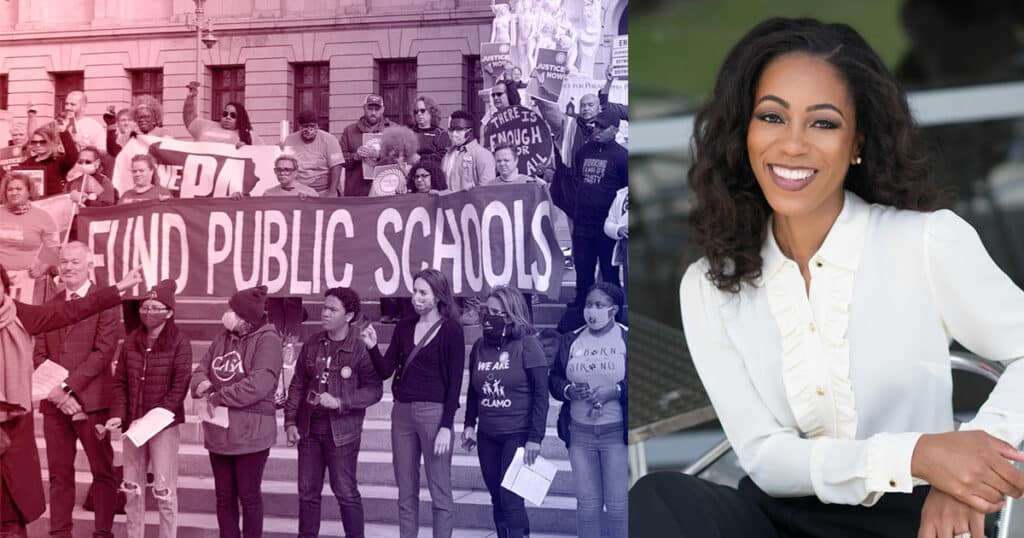 Billions of dollars are still in play in states and cities across the country, and it's up to grassroots advocates to make sure they're used to properly fund our public schools, support our students, and move educational systems and practices toward greater racial equity.
Federal ARPA dollars, COVID recovery funds, new allocations in last December's omnibus budget, historic city and state surpluses, and now President Biden's new proposed federal budget — organizers need to know how to navigate the many processes required to move those funds where they're most needed. When parents, youth, and community advocates are well-versed in policy, they can make big changes.
In this new webinar for education justice advocates, Dr. Ashley L. White walked participants through the details of this federal landscape and provided concrete ways that you can put this information to work both in your community and state capital and answer your questions.
Zakiyah Ansari, Advocacy Director & New York City Director of the Alliance for Quality Education, introduced Dr. White. "Let's take back what we learn to our locality and make sure we are pushing for what we need for our public schools wherever we live in this country."
Michael Wotorson, the Schott Foundation's OTL Network Director, moderated the Q&A.
Excerpts
COVID funding: learn the key legislative acts that distributed and govern COVID-related resources for schools.
2022 Omnibus: learn how the omnibus spending package, passed in late 2022, can provide new funding for public education.
Bipartisan Safer Communities Act: learn about the new money allocated in this bill, passed in June 2022, and the activities it can fund — both good and bad.
---
Ashley L. White is an assistant professor at the University of Wisconsin-Madison and the inaugural Education Fellow for Equity Access and Opportunity with the National Association for the Advancement of Colored People (NAACP). Before her appointment at UW-Madison, White served as the 2019-2020 Joseph P. Kennedy Public Policy Fellow with the Committee on Education and Labor under Chairman Robert "Bobby" C. Scott. Before earning her Ph.D. from the University of South Florida, White taught school for 15 years. White researches the intersectionality of ethno-racial identities and disability in postsecondary settings through the consideration of student and educator experiences and the policies that impact these experiences. Additionally, Dr. White invests time in working with school districts across the country to advance professional development for teachers related to special education, disability, and intersectional issues. As a scholar and advocate, Dr. White envisions restorative policy as a way to address the historical and present inequities that persist for ethno-racially marginalized individuals with disabilities at large.