Blog
Celebrating 30 Years of Education Justice: If Not Now, When?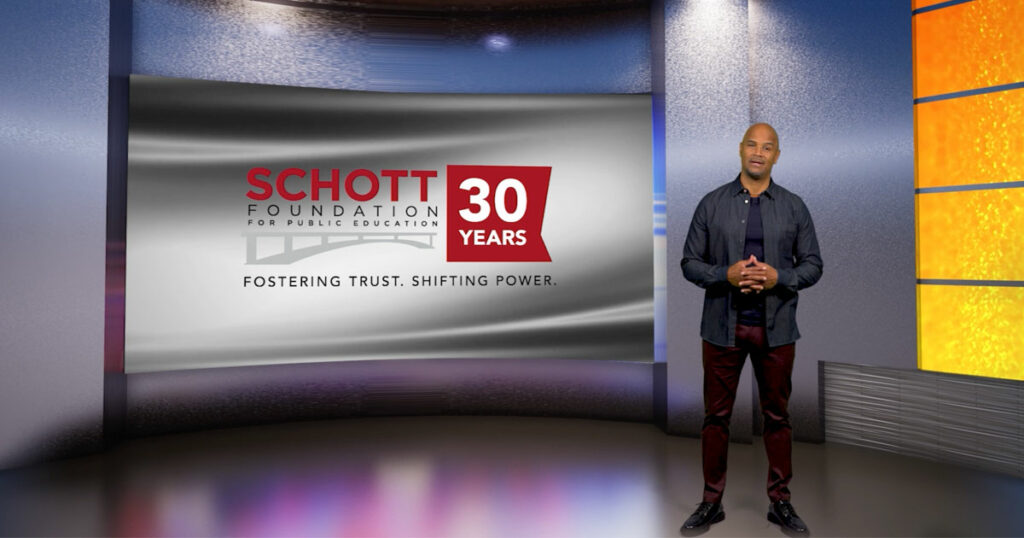 Singing, dancing, and storytelling: last night we celebrated Schott's 30th anniversary milestone with a virtual event joined by hundreds across the country.
We heard from celebrities, grassroots organizers, parents, students, and funders how movements for racial justice in public education have won incredible victories — and how together we're powering a just future. These are the leaders Schott supports, grounded in the vision of Schott's founders 30 years ago: a vision of equity, justice and opportunity for all children.
Thanks to our sponsors and donors, last night we raised more than $200,000 to support Schott and the Loving Communities Response Fund for Racial Justice! The Response Fund is a participatory grantmaking fund, directed by national grassroots organizations to move money quickly to those who need it most — most recently, in support of the water crisis in Jackson, Mississippi.
If you missed the festivities last night, the recorded livestream is now available. Please visit our event page to watch and consider a gift that's personally meaningful to you – whether it's $10, $100, or $300.
You still have time to take advantage of a $40,000 match that the Hill-Snowdon Foundation offered! All donations, regardless of size, are appreciated and add up to make a big difference.
We're thankful for the talented stars who joined us for our celebration, including our host Dondré Whitfield, Keith Knight, Lisa Vidal, Cedric the Entertainer, Hill Harper, and the Resistance Revival Chorus. We're grateful to our generous event sponsors as well for their incredible support. And we're so proud of the three longtime grantee partners we highlighted during the event: the Alliance for Quality Education, the Journey for Justice Alliance, and the Dignity in Schools Campaign.

The movement for education justice has many victories over the past thirty years to celebrate — and with your help, we have many more ahead of us.