Blog
After a Huge Curriculum Victory, the Fight for Implementation Starts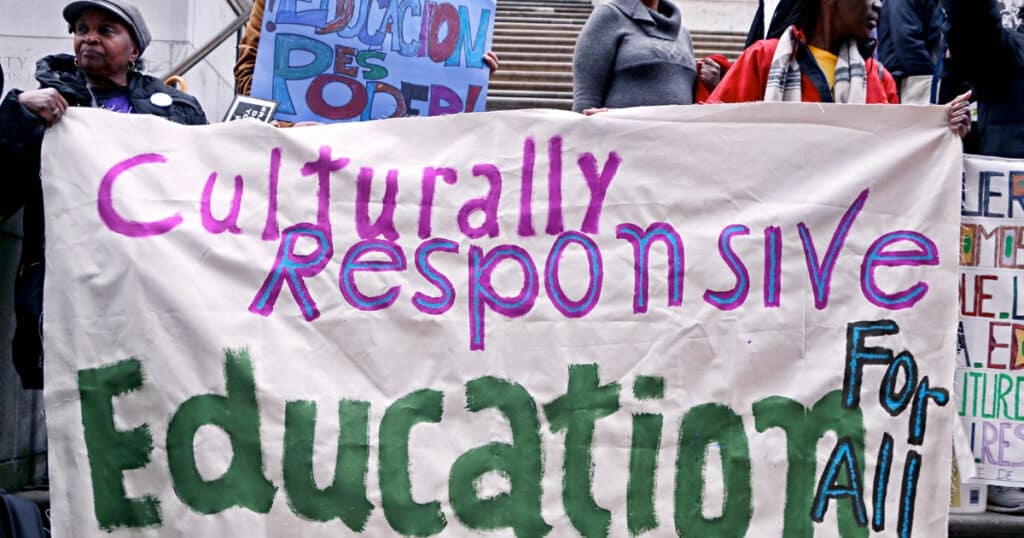 The New York City Coalition for Educational Justice (CEJ) is a longtime Schott grantee partner and a citywide collaborative of community-based organizations organizing the power of parents and community to create a more equitable education system. Led by Director Natasha Capers and rooted in the grassroots, CEJ has notched a number of big victories over the past several years.
A groundbreaking CEJ report, analyzing more than a dozen commonly-used curriculum guides and book lists, found that on average, 84% of them were written by white authors in a city that is 85% students of color. In a webinar hosted by the Schott Foundation, Natasha Capers and others laid out the details of just how tilted the curriculum is against students of color. In 2019, CEJ celebrated a major breakthrough as New York City announced a complete re-evaluation of its curriculum with the aim of making it more culturally responsive. This, however, was just the beginning.
The most recent step forward came last year, when the city announced it would spend $202 million on building new Math and English Language Arts curricula from the ground up, which will be called the Universal Mosaic Curriculum (UMC). As Chalkbeat reported:
"More than $200 million will be invested in creating and sustaining a universal culturally responsive curriculum designed by New York City educators. The comprehensive curriculum, which is slated to be ready for schools to implement by the fall of 2023, is designed to reflect the diversity of the city and will include support materials for English and math, officials said."
After the Victory, a Stall
Unfortunately, after the announcement, very little has happened with that $202 million, either during the final months of the De Blasio administration or the months since Mayor Eric Adams took office. Capers and other advocates have been sounding the alarm.
The new mayor and school chancellor were greeted by some hope, but after months of inaction that impression has soured. "They have still have not built out anything for the Universal Mosaic Curriculum," Capers said.
That isn't to say there isn't positive activity: Capers applauds the work done to build ethnic studies programs, but cautions that those are no substitute for the UMC. "What they're building out is ethnic studies coursework which will eventually live across all grades, but it shouldn't be to the detriment of Math and English Language Arts, which happens every day."
This is a consistent trend in grassroots organizing: a commitment from policymakers after a long fight, and then a quiet abandonment of that commitment once the cameras and attention shift elsewhere. It's a trend that CEJ and others have long recognized among New York politicians, who can talk the talk but hesitate to walk the walk.
Pressure Ramps Up Again
Thanks to consistent parent and community mobilization, UMC inaction, along with the recent controversial education budget cuts, has been put back to the political forefront. CEJ led a letter writing campaign toward the city council's education committee chair, the mayor, and chancellor — this generated thousands of emails and has had a significant impact.
A city council briefing on UMC is scheduled for August, and a hearing is planned for the fall. "They need to be accountable to families," Capers said. This is especially true of the UMC, which is required to incorporate meaningful parent and community input in its development — something that still hasn't happened.
CEJ and allied groups are spending the next year re-focusing on strengthening and expanding their base, especially among parents, and educating the many new members of the NYC City Council.
We're proud to support CEJ's work, and you should too! Donate now by clicking here and selecting "NYC Coalition for Educational Justice" as the project.