More than a Form: Rethinking Grantee Relationships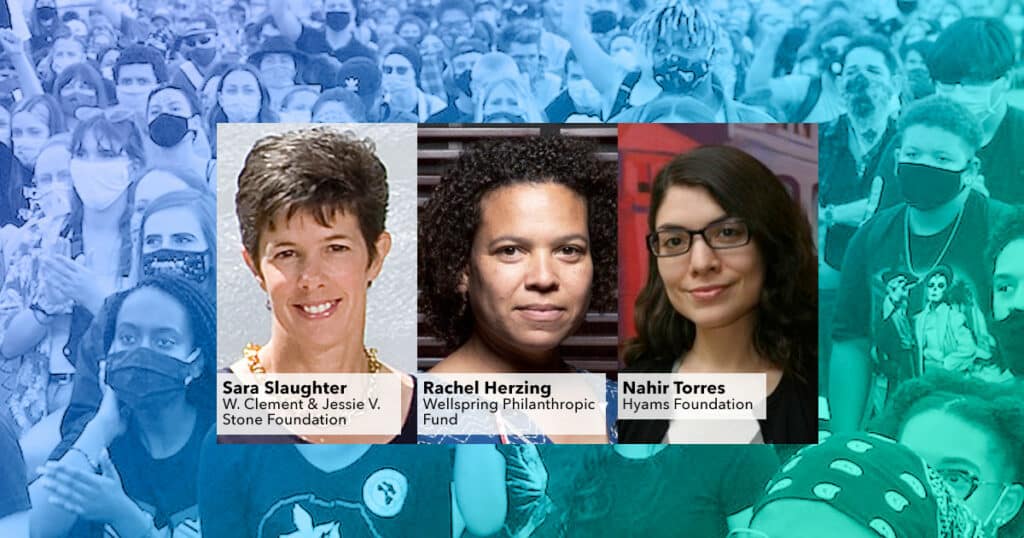 Since the onset of the COVID-19 crisis and the racial justice reckoning in the wake of George Floyd's murder, grantmakers are increasingly rethinking their engagement with communities of color, especially via their expectations of their grantees and what their grantees should expect from them. As an intermediary, we at Schott have seen these shifts firsthand from grantees and funders.

In this issue, three practitioners share how their grantmaking strategies have shifted, what movement they see in the sector at large, and how those in philanthropy looking to make a change can get started.
Philanthropy's often onerous reporting and evaluation requirements is a longstanding problem for many of our grantees At best, they are distracted by critical work being funded, and at worst, they are locked out of funding opportunities altogether. This has been acutely felt among grassroots organizations rooted in Black and Latino communities.
Joining us in this conversation is Sara Slaughter, Executive Director of the W. Clement & Jessie V. Stone Foundation, Rachel Herzing, Program Officer at Wellspring Philanthropic Fund, and Nahir Torres, Senior Program Officer at the Hyams Foundation.
Contributors: Sara Slaughter is the Executive Director of the W. Clement & Jessie V. Stone Foundation. Rachel Herzing is a Program Officer at Wellspring Philanthropic Fund. Nahir Torres is a Senior Program Officer at the Hyams Foundation.
Schott: What does grantee reporting look like at your organization, throughout the grantmaking process? How has that changed, if at all, over the past 3-4 years?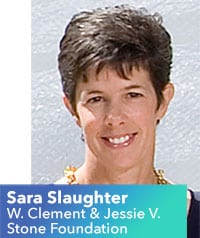 Sara Slaughter: Over the last three years we've definitely moved more toward infusing equity across our work as well as intersectionality across issue areas. Ultimately, we are trying to move toward the idea that we're not here to make good grants. We're here to be problem solvers with our grantees to work on social change.
Certainly, good grants are important. But it's not just reporting to your board the rationale for how you made a good grant: at the end of the day, how are we moving the needle? On some of the social justice issues facing us today, that's really what it's about. How do we infuse that into our communications with our board? How do we infuse that into our communications and relationships with our grantees?
In fact, the Stone Foundation was a subject of a Grantmakers for Education case study, and we ended up calling the case study, "Equity as a Verb." Because we want to think of equity not just as a destination, but also a way of doing our work.
Our actual grantee reporting process really hasn't changed much over the last three or four years. From the get go, it was designed to be online. Its questions like, what were the objectives of the grant? What's your progress? Grantees are encouraged to cut and paste from their proposal and then update it. So we've had in place a fairly user friendly, not too time intensive grantee reporting form.
What has shifted over the last three years is our mindset.
We started to think about how a grantee reporting form is really a sort of a vestige of the hierarchical paradigm that we find ourselves in philanthropy. It's a way of saying, we're going to make sure that you're accountable for what you said you were going to do. Over the last three years, we have looked in the mirror and realized that can't be the primary way that they see their funder.
We're trying to shift our mindset to one of mutual accountability, to one of working side-by-side with our grantees, working with them toward not simply a successful grant report but real social change.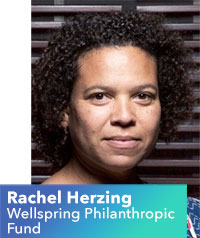 Rachel Herzing: Wellspring Philanthropic Fund implemented flexible reporting during the pandemic to ease burdens on our grantee partners, and that remains in place. For the grants that I manage, the reporting process usually starts with me getting in touch with a grantee partner and asking them how they would like to report. Most of the grants in my portfolio are two-year grants, so we do a check-in at the end of the first year, and one at the end of the second year.
I normally provide people the option of reporting verbally or written, so for example they can have a phone call or a video call, or they can send bullet points or a list of things they've been working on. I also give them the option of submitting a report they've done for someone else that might cover the same or similar objectives that they've outlined for their own grant.
Because so many of the grantee partners I work with want to do a verbal report, it's a good opportunity for us to deepen a relationship with each other, and for me to understand how things are going in context of the health and well-being of the organization overall. The portfolio I manage focuses on movement infrastructure, so I'm always thinking about movement sustainability for both organizations and the people within them.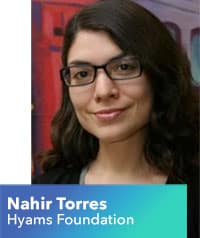 Nahir Torres: At Hyams, for prospective grantees we have a very simple letter of interest process that new applicants can submit. I always encourage them to speak with the program staff, so that we can walk them through our funding criteria and answer any questions that they have.
We make a point at the top of that letter of interest template to say that we care not about the form of the narrative: it's really about the substance of the work. We do this because we know there are a lot of biases around what a "strong proposal" looks like that can privilege nonprofits that have more resources or a more robust development team. If they're a new applicant, we'll have a conversation, determine whether they're strong enough fit to advance them, and then they will submit a few more narrative responses.
Most of our grant recipients get multi-year funding unless it's a rapid response grant. Those who do get those core support grants are asked to do interim reports at the one-year mark right prior to release of second year payments, and then final reports prior to submissions of new applications.
What does that look like? The interview is very simple. It is a basic narrative: What are your accomplishments? What were challenges or lessons learned? What are your goals for the coming year? It's open ended. Several years ago, we adopted the practice of inviting our grantees to submit reports they have submitted to other funders. If that report is for similar work and has been submitted in the last three months, so it's still current, they can submit that narrative to us.
The other information we request includes things like year-to-date financials, so we have a sense of how they're doing financially and expenditures against a grant. We've also asked for their 990 form but we can get that from GuideStar. We've moved away from asking for audits, because we know that while it's required at a certain level of organizational scale, we can get a lot of that information from the 990 and it's less burdensome. So that has been a lot of the focus: how can we shift the burden away from the applicant or the grantee on to ourselves?
Very recently we brought on a new grants manager who has a fresh perspective to our work: they come from the lens of an applicant, as they used to work for one of our grantee partners. They had heard about grant reporting through verbal reports, and so we offered that as an option to anyone providing a final or interim grant report.
The grantee could schedule a check-in call, not as a formal interview, but more of relational check-in, guided by some of the grant reporting questions. On these calls we can hear how things are going, how they're thinking about the work moving forward, but also to figure out questions for us: what capacity supports do they need? How can we be of service to them as a fundraising partner? It's about finding ways to calibrate down the labor on the part of our grantee partners, and prioritizing relationship building. We want our grantee partners to have trust with us, so that when they're encountering challenges, they feel much more comfortable to reach out and ask for support.
Many organizations — especially those that are BIPOC-led — report that the time and effort it takes to prepare documentation for grantmakers is difficult and at times overwhelming. And even when funder relationships are not onerous, they can be overly transactional.

Beyond your own institutional practice, do you see the philanthropic sector sufficiently changing to address those concerns?
Sara Slaughter: I see some movement in that direction, but we need more. I do see more foundations making moves. For example, I've seen some foundations change titles from Program Officer, which sounds so official and perhaps authoritarian, to Director of Strategic Partnerships. I've seen foundations that give feedback to the proposals that are not successful, because they know that, in the interest of social change, they want to build the capacity of organizations so they are able to write really strong proposals that get funded.
But I also think that as a field, we need to give these questions more attention. I think we need to come together more and continue to talk about that, about what are the different ways that we can move to being a more trusted partner in social change? I think that the power dynamics are something that we can never completely escape. Philanthropy exists because of the inequitable distribution of wealth and power, and we need to recognize that and do our best to counteract that.
We should also remember that grantee reporting doesn't take place in a vacuum. We also need to start funding our BIPOC-led and -serving organizations at the same level as comparable, white-led organizations. Funders may not be creating that disparity intentionally, but we must stop, look at the funding data, and ask ourselves if we're really funding these organizations at an appropriate level.
Rachel Herzing: As a sector, I don't think we're doing enough. Every single time funders and grant seekers are in the same room together, funders hear the same thing from them: We want general operating support, we want multi-year support, we want flexible reporting, we want to not have to spend hours and hours providing you with what you need for little payout. We want you to fund us at the scale that we need to be able to win. We hear the same things all the time from movement organizations. I don't feel like enough funders are responsive to those needs. So the question for us as a sector is: if there's a real commitment to being responsive to movement organizations, what will it take to take those needs to heart and act based on them?
And I think there will always be issues of risk. Philanthropy is a risk averse sector, for some understandable reasons. But I think that sometimes the perception of risk is different from the actual risk. There may be more faith that funders could place in movement organizations to know what's good for them, to respect the input and the perspectives that movement organizations have about their own work and what's necessary to advance their work. And I wonder: if there were more trust and more respect there, would some of these things change more quickly? There really is intent on the part of philanthropic actors to respect movement actors and to really give them what they need. But there are still some sticking points making it hard to completely get there.
Nahir Torres: Philanthropy has a tradition of thinking very quantitatively about outcomes and outputs. And, you know, at Hyams we used to use this approach ten years ago. We might say: report on how many organizers you've trained, how many public actions and organizing activities you held. It was such a burdensome exercise for grantee partners. And it wasn't necessarily shifting our practice or our strategy. So we have tried to really think about how to reimagine accountability, and think increasingly about our own accountability as a foundation and less about our grantees counting their widgets and reporting to us.
As a sector, I think we're far from where we need to be. What heartens me is I do see a growing courage on the part of nonprofits and leaders of color who are calling for an end to these transactional practices and saying: You need us, and you need to get in right relationship with us.
I think those funders in a more traditional direct service space are still beholden to status quo arrangements of funding from the public sector and the private sector. Those who are anchored in social justice analysis are shining the light and telling us that if we're really about this work, we need to show up differently. Of course, that doesn't mean it's been a sea change, or that the whole field is transforming overnight.
But I do think in that sphere of philanthropy that says it is about participatory democracy, social justice, and racial justice, the lens of accountability and honesty and shifting practice to align with those values is sharper.
What can our philanthropic colleagues do to shift this dynamic in their own organizations and grantmaking practices?
Sara Slaughter: Three things come to mind.
First, the grantee proposal and reporting forms are important starting points. The questions that we ask, and the things that we measure, signal our values. If you're not an executive director, or head of a department within your foundation, but you're a program officer, there are many things you can still do. You may not be able to change the entire form, but you may be able to change or add questions in a more qualitative direction. Questions like, "what would you like us to know that we haven't asked?" Or, "what are you most proud of?" "What do you need from us beyond grantmaking, what can we help you with?" These questions signal your values, and empathy.
Second, ask yourself how you are conducting your analysis for internal audiences, whether it's a written analysis, an oral presentation to the board, or both. Yes, your board and colleagues will be expecting certain quantitative metrics or buzzwords, but you can start adding in the qualitative things as well.
We're not going to immediately or fully escape the current language and hierarchical paradigms; it's going to take time. But we can start by working some of that into the language that we use, and the reports that we give.
Third, get to know your grantees outside of a transactional relationship. It's through honest conversations that you can find, for example, that a grantee is trying to get through to a certain person in the mayor's office or at the state board of education, and you know that person and you could make an introduction.
Or maybe you discover that they're doing some work that you're not funding, but you know someone who does offer funding for it. [Schott President] John Jackson talks about this, that we as funders need to use our cash and our cachet: in addition to our grantmaking we have wealth in our social connections that we can tap for our grantees as well.
Regardless of where you are in your foundation, there's a way to begin weaving these things into your written work, your oral presentations, the meetings that you have and the relationships that you build.
Rachel Herzing: I think for me, I try to rely on my own memory of many, many years as a grant seeker and trying to get funding for things that were unpopular. So one thing I recommend is to meet with anybody who's interested in meeting you. It is hard to just plain get in front of a grantmaker. It can be very, very hard to get into that space.
Even if what I fund is not a great fit for them, I'll be upfront about that and I'll say, "This is what I work on, if you still want to meet with me I'm very happy to learn about your work," and I'll try to figure if there is somebody I can direct them to who might be a better fit. Can I make an introduction?
Follow up with grantee partners when there's not a crisis, or you don't need something from them. Even if it's something small, like, "I saw your organization in news, congratulations." And when we do talk, I try to encourage grantee partners to let us know if there are additional things that they need, to keep the door open.
I think there's so much pressure for organizations to deliver the best possible picture of themselves, so it's important to be clear with them: if something comes up that they didn't anticipate, we want to hear about it. If there's a crisis, we want to hear about it.
Some funders will do things like increase grant amounts during leadership transitions. That's not a totally typical thing, but it's not a completely unusual practice at this point, either. And that seems like a great practice to me. When your organization gets a little bit wobbly, because of the normal things that happen in an organization's lifecycle, that's when you need your funders to come in and say: we're with you, we support you, here's a little boost to take you over the finish line.
Internal education is also key. Internal learning opportunities, for staff and boards, are good spaces to leverage to open up conversations about what's actually going on in movements. It strikes me that if we're more educated and more frank with ourselves about how change actually happens, that then we can adjust ourselves a bit more. I really do believe that the sector wants to support groups that are doing social change work. But I think sometimes we get in our own way.
Nahir Torres: I think it's important to make sure that there are touch points with grantees that aren't about any goal, but about the relationship itself. We have a tradition of summer check-ins, and pre-COVID, that might like look like me sitting down with a grantee partner over coffee and talking about their work generally and how they are doing, centering who they are as people. Because fundamentally, we're people working in organizations in a shared landscape. But I'm always trying to consider: is what I'm suggesting extractive? Is this a good use of their time? Am I being of service?
Relatedly, practitioners should do their best to prevent grantees from feeling like they need to do a dog-and-pony show for funders. It's so much work and staff time, speeding through slide decks, everyone making sure they get their lines right — but it doesn't have to be that way. We've started to take some of our conversations out of the sequence of proposal review entirely. So we might have a check in related to questions we have, but there's a way in which decoupling those conversations makes them less performative, more authentic, and more honest.
Another good practice — and I've heard this from some of our youth organizing partners — is to show up to grantee events. And they don't necessarily mean their annual meeting, but things like an upcoming rally or public action. If our partners have a community town hall, I show up for it not just because I support their work, but I want to see them in action, and want to experience what it is to be a constituency in their space. That can lay the groundwork for more candid and honest conversations in the future because you're building some shared trust.