How Should Philanthropy Think About Risk?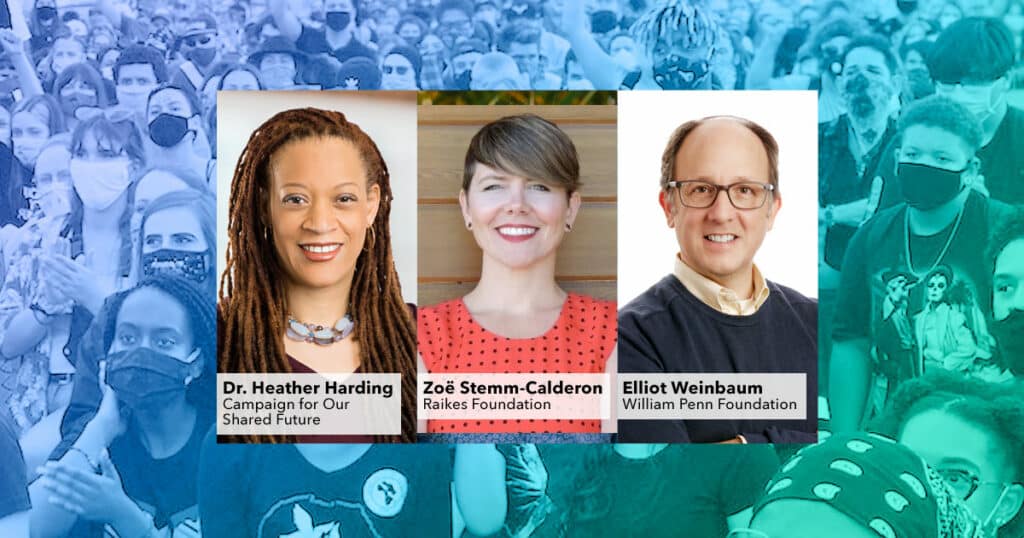 In today's social and political climate it is more important than ever for funders to be nimble and daring in their grantmaking strategies while holding true to their core values.
How do philanthropic organizations best balance prudent resource stewardship while being responsive to those most impacted by systemic injustices?
In this issue, we speak to three philanthropy colleagues who know these challenges and have built grantmaking practices that are willing to be bold in their strategies.
Contributors:
Dr. Heather Harding
is Executive Director of the Campaign for Our Shared Future, 
Zoë Stemm-Calderon
is Senior Director of Youth Serving Systems at the Raikes Foundation, and
Elliot Weinbaum
is Chief Philanthropy Officer at the William Penn Foundation.
Schott: There can be an institutional aversion to trying new strategies and tactics in philanthropy, even when there are significant changes on the ground. How should we think about risk in the philanthropic sector, and make our institutions nimbler?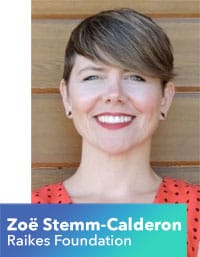 Zoë Stemm-Calderon: The world is rapidly changing, especially for young people. Our education system, our political context, our social one, they're all shifting and it is imperative that we as professionals also transform with them. We should lean into the literal meaning of philanthropy —"love of humanity" — as our starting place. But from there we must also recognize that we are all a product of our own experience. We've got to have stronger, deeper, and more resonant experiences with the problems we're seeking to solve, to understand the systems we're trying to change, and to be strong supporters of the proximate leaders who are trying to make that change.
We should start from the assumption that facilitating our organization's learning journey is required to have the impact we seek, rather than feeling frustrated about it. If the decision makers on our board don't understand a particular issue just yet, we have to keep working at it. We've got to roll up our sleeves and make the case; that's what we get paid for, in my opinion. If you don't want to be the one who makes the case for the stakeholders at your organization, that's okay. There are people who are amazing advocates, who maybe don't want to lead in philanthropy because they don't want to do that case-making. Still, I think many more of us could be taking our own risks internally at our organizations so we can support taking big risks out in the world.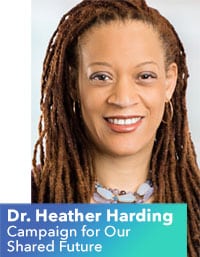 Dr. Heather Harding: I was in philanthropy for about nine years. This is a little bit controversial, but I think that philanthropy as a sector has fallen for a narrative around measurement and impact in an unhealthy way. And one of the things that I think is so important, for example with the MacKenzie Scott gifts, is there's no pretense that what we do is the driver of impact on the ground: what we do is give money to people who drive the impact on the ground. And so in some ways, what the measurement really should be is how much money we get out the door. So I want to start there.
I think we have been risk-averse in educational philanthropy because we first want to do a service. In education in particular, there's a tension between providing direct service to students versus the kind of advocacy policy and the ecosystem in which schools operate. 
It's very challenging to measure advocacy if you're looking for impact because policy is sausage-making. It's hard to see which piece made the actual difference. One of the things I learned to look for was building capacity. When there are opportunities to see sustainability and a set of issues that were important issues, like funding for professional development and learning, do we think that's important as a public investment? Are people talking about the quality of teaching and instruction? Are people continuing to focus on how well-prepared teachers are? If you can measure the consistency of how important those issues are in the public debate, I think that's a good place to start.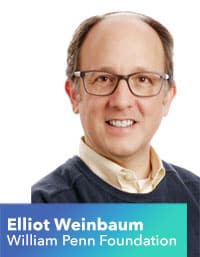 Elliot Weinbaum: If the risk is shared with other investors, it's lower because there are other people who have money in that effort. If your plan doesn't come to fruition in the way you hoped, your relative contribution has been smaller than if you had funded the effort in its entirety. So I think that's why funders, when exploring whether to join an effort, are looking at what other funding is going toward it.
I think we as funders are, sometimes, willing to risk large amounts of capital on things we think are extremely important: if we're able to find co-investors in that effort, we're happy to do so both to limit the risk on the part of the foundation, but also to increase the amount of resources that might be available to support that cause. For example, with the school funding lawsuit in Pennsylvania, the foundation saw a significant injustice in the system and as a result has made a wide range of investments to address it — litigation being one of them.
In the face of new challenges or systemic injustices, how are you able to institutionally pivot your activities while maintaining your overarching goals? 
Stemm-Calderon: We've been working on advancing more equitable learning environments, schools and systems in which every kid gets what they need to succeed for a few years; and part of what we heard over and over again from our partners was that we're never really going to get to a system that meets the needs of every kid if we don't address the topic of funding. There's no amount of strategizing, of redesigning the student experience at the school level that can overcome a $23 billion gap between how many resources kids of color have access to in their schools versus the level of access of those of more privileged kids. We've got to address the issue of funding if we're to move forward in a more impactful way.
To us, that meant making the case with our trustees about why funding is an issue that really matters; that we needed to have a fuller, systems-level analysis of our work. We had to understand what the evidence was telling us about our work and that we needed to make a strategy case to them. It involved incorporating exploratory grants that facilitated learning to get our feet wet: building learning experiences for stakeholders across our foundation so we could learn from the organizers, advocates and experts in the field about the barriers they're facing and how we can make progress in our work. Eventually, we launched the Resource Equity Funders Collaborative so we could facilitate learning with the field and partners across philanthropy.


Weinbaum: The William Penn Foundation from its very beginnings has been committed both to direct service and to system change and is always seeking to find the balance between those investments. We're coming up on a new strategic planning process in 2023. The board sets priorities and directions for our program areas, with input from staff, from stakeholder and grantee interviews, from the research and evidence that has been gathered both by our internal evaluation learning team as well as external researchers, and that's all put into conversation to set the priorities for the next ten years ahead.
But something like COVID comes along and disrupts everything. So how do we stay true to our goals while adjusting to new realities? As one example, we have a goal for children in Philadelphia to be reading proficiently by the end of third grade. When kids have been out of school for almost two years, your opportunities look different. We suddenly started funding a lot of summer programming the first COVID summer and the summers after that. This was a significant shift: our original strategy had us focused on maximizing learning during the school day and school year. Recognizing the new reality and the learning loss, we had to look for other opportunities. We reached out to networks of city-funded, non-profit, and volunteer groups doing summer programming, as well as our existing grantees, to spread the word, and then develop new criteria that would work to stay true to our prioritization on third grade reading.
What do you recommend for practitioners in the sector looking to make organizational pivots, to do things that may be perceived by others as risky? 
Stemm-Calderon: We have to really listen to the field about what's needed in their work. In our case, there was one thing we kept hearing from youth organizers, from parent organizers, from educators, from researchers: if you really care about equity, you've got to address the original sin in the design of our funding system. And from those conversations you can make a persuasive case to your colleagues, donors, and board. It's a risk worth taking. 
It's also important to understand who your audience is, what their lived experience is, and what their exposure to our work is. For example, in one of our landscape scans, we wanted to answer the biggest questions that are going to be issues down the line, hang-ups for us to not pursue. What is the impact of addressing resource equity, based on the evidence we have? How can we identify the naysayers? For example, the whole body of evidence saying funding didn't matter in education, a line of thought that has largely been refuted by more recent longitudinal studies of funding inequity. How do we grab hold of the evidence at hand, understand the existing messaging research, and prepare to steward a strong narrative in this particular case?
And finally, what are examples of states making progress on the topic of resource equity? In the case of school funding, we can point to examples like the Local Control Funding Formula in California, or the Abbott case in New Jersey and more recently the progress we're seeing in Tennessee. We built from our trustees' lived experiences, such as family members who had worked in public schools and understood resource inequity, as well as a legislator in the family who had led on this issue.
I believe this is how you can support stakeholders to make decisions that might feel risky in our field: by working through things with them so they better understand what's at stake. Their own experiences with the education system may not make it easy for them to see a particular issue, and I think it is our job to help them understand the dynamics at hand.
Weinbaum: I think there are three things that are helpful. First, it's personal experiences. How do you create opportunities for people to see and feel the issues you're talking about? Do you go to one school, which is barely able to repair a leaky roof, across the city line from another school that not only has a sound roof, but beautiful swimming pools and running amazing outdoor experiences? That can help people to see that juxtaposition and injustice.
Second, it's data. While the personal experience is a sort of qualitative data, what is the quantitative or large-scale evidence out there about how money is distributed and the impacts that it has using?
And third, there are these tipping point moments, when the situation becomes so intolerable, or a data point becomes so stark, that it's almost impossible to look away. When you talk about Pennsylvania schools being $5 billion away from providing an equitable opportunity to kids, that is a number that forces you to reconsider the situation. This is not a small issue. This is something that's so dramatic that it demands attention.
So it's a combination of those three: creating those personal experiences where people can really connect and see the situation themselves, marshaling the big data to know that it's a systemic issue that needs to be wrestled with, and finding those catalyzing moments that occur.
Harding: One example of making the case for a pivot came from focusing on race as we examine educational outcome data. Disaggregated data is a really important thing. We might think we're doing well in aggregate, when in actuality we're really doing poorly for some groups and that there are social and historical reasons for that. That should then lead us to make a different set of investments than we'd otherwise make. We had to have a lot of conversations, to talk a little bit about racialized impacts and systems of measurement. This made people uncomfortable, because if you're not experienced, or if you don't have a sense that talking about race is not taboo, then that's going to be a hurdle you have to get over. But I did a lot of work around racializing goals and being really specific about who, for whom, and what kind of improvements we wanted to prioritize. And then we have to contextualize them as being a net good for everyone. It's an idea that I think we have to continue to sell: if you leave one behind, everyone else is not whole and healthy. 
So maybe your institution is, say, concerned about leadership, or maybe it's more issue based. Find a leader and invest in them, learn with them. I also think that even the more traditional routes, like having lunch bag talks to bring folks in and get to know organizations, is a good way to socialize a new idea within a philanthropy. Sometimes it's just access to the folks that are inside.
I would always tell folks who are new to philanthropy: when you come in, just remember, it's just spending money. There might be all kinds of systems that we built and fancy ways of doing diligence. But remember, at the end of the day you are giving some money away, hopefully for a good cause, or based on the board or the founders' vision. And remember that you're not the doer, you are an investor. That can be really hard for those of us who have worked on both sides of the grantmaking process. But it's an important place, I think, for the humility of managing what is a privileged opportunity. So if you're in that privilege space, what can you do to elevate somebody else's work or give them access to a resource?